Bet365 Bingo Introduces New Welcome Bonus
Chris Grove | U.S.A. | Tuesday October 2nd 2012, 09:02 | 0 Comment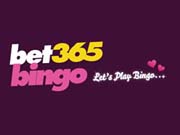 One of the most popular online bingo rooms in the world has overhauled their welcome bonus. The new opening bonus for bet365 bingo has a lot to offer new bingo players, and we're going to talk more about that value and the details of the bonus in the course of this article.
So, what do you get from the new bet365 bingo bonus? What we're looking at is basically a 200% deposit bonus (generous by industry standards) with a maximum bonus amount of £20.
How do you qualify for the bonus? It's pretty easy to qualify for the bingo welcome bonus at bet365. You really only need to meet two conditions:
New bingo accounts only. It's fine if you already have a bet365 account, but the bingo welcome bonus only applies to the first deposit or transfer you make into your bet365 bingo account.
Your account must be in SEK, GPB or EUR to claim this bonus.
Assuming you can meet those two conditions, you are fully qualified for the bonus.
Does the bonus require a deposit? Yes. bet365 bingo bonuses almost always require a deposit, and this one is no exception. You need to make a minimum deposit of £10 in order to qualify for the bonus at bet365 bingo (maximum bonus is achieved with this deposit as well).
What strings are attached? Relatively few. As mentioned above, you'll need to make a deposit in order to get the bonus. On top of that requirement, you will also need to buy £10 worth of bingo cards before your bonus will be available for wagering.
To make the bonus or any winnings withdrawable, you will need to buy bingo cards at bet365 equal to four times your bonus + deposit amount. So, if you get the maximum bonus by depositing £10, you will need to purchase a total of £120 (£20+£10 * 4) before you will be able to cash out the bonus.
You have a total of 14 days to meet these requirements or any bonus you have left will be voided.
As you can see, the bet365 bingo bonus offers reasonable value with low hassle to online bingo players. While some might prefer bonuses that don't require a deposit, the quality of the bet365 bingo room combined with the quality of the welcome bonus make this an offer that should appeal to a wide swath of people who play bingo online.